If you are a serious gamer, whether you game from your PC or a console, you want to have the most secure, reliable, and speedy connection. You may be considering switching connectivity, but which is the best VPN for gaming?
There are many factors to consider when choosing a VPN for gaming including price, trustworthiness, speed, security, and compatibility. Read on to explore how switching to a VPN service can improve your gaming experience.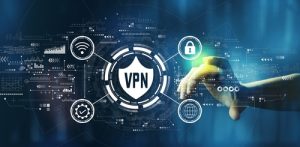 What is a VPN?
A virtual private network (VPN) is a service that protects your internet activity online. VPNs use an encrypted tunnel for your data to keep your online identity and IP address anonymous. It also provides you with security while using public Wi-Fi.
When your device makes a request on the internet, it connects to the VPN server, which can be located in any number of places in the world. Then, the VPN server encrypts your data, hides your IP address, and connects to the website or application you wish to use.
This gives you private internet access whether you are at home or using your mobile device as you travel. Many people use VPN connections to unblock streaming restrictions in different countries or to get past blocks on private internet connections.
In fact, 33% of internet users worldwide have a VPN. You can use VPNs to shop on Amazon or other websites securely, as well. In gaming, people use VPNs to keep their IP addresses anonymous and to improve internet speeds. There are some free VPN options available, but most of the best VPNs for gaming require a subscription. 
Why is VPN Great for Gaming?
Although many people use VPNs to access specific content on streaming services like Netflix or for more private internet browsing, VPNs have many benefits for gamers, as well. 
Access Restricted Content
Whether you are playing Pokemon Go or streaming content via your gaming console, you may want to be able to access geo-restricted content. Using a VPN allows you to connect to a server in a different country, which fools applications into thinking your IP address is from that country. Then, you get to unlock exclusive content. 
Many people living in countries with strong internet restrictions, such as China, use VPNs to access digital content. VPNs can also help you bypass restrictions in certain locations such as schools or offices. Since your device connects to a server network in another country, such as Japan or England, it confuses and hides your IP address so that you can unblock websites that may be under restrictions.
This will allow you to game wherever you go. 
Avoid Throttling
Throttling is when an Internet Service Provider (ISP) slows down your bandwidth to improve speeds for others using the service or to try to get you to pay for higher-speed services. Using a VPN can help you to avoid ISP throttling when you are playing your favorite games. 
Not all VPNs are alike, so it is important to find one that offers reliable connection speeds and excellent download and upload speeds.
Game Safely on Public WIFI
A VPN also offers much better security features than proxy servers. If you want to know that your data is safe throughout your gaming session, a VPN will provide you with that security you crave. Not only do VPNS have malware protection, but they also encrypt your data to make it more difficult for hackers to have access to sensitive information.
If you are a parent, you may also want to know that your child's information is safe while they game. Since VPNs obscure the IP Address, this makes it more difficult for people to locate your child and use that information against them. 
Keep Your Information Safe
If you make in-game purchases or need to sign up with your email address, phone number, or other secure information, you want to make sure that your data is safe from prying eyes. Many VPN services practice no-log policies, which means they do not collect any information transmitted through their network.
They also don't save your browsing, download, or search history. This gives you a sense of privacy and protection while online gaming. Sometimes other players may want to stop competitors from playing the game so they perform Distributed Denial of Service or DDoS attacks.
However, having a VPN keeps your IP address a secret, making it hard for other gamers to identify you. 
Things to Consider When Getting a VPN
Before selecting a VPN provider for gaming, there are several factors you'll want to consider as you look at all the options.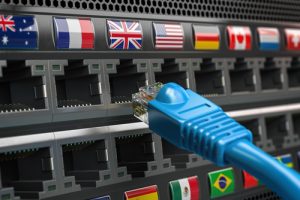 Server Locations
Different VPN service providers have various server locations. Where that server is located gives you access to certain content and privacy protections. When you select a VPN provider, check to see where their servers are located.
This will help you decide if this service will provide you with the security and the geo-restricted access you desire.
P2P Connection Availability
A Peer-to-peer (P2P) network is when two or more PCs share files and access to devices on the same server. Using P2P VPN allows users to transmit and receive data across the private network through several nodes rather than in a single place.
Each device connects directly to the network, making multiple points of connection. This gives you quicker downloads. Some VPN providers are better with P2P than others. So, if you plan on having multiple devices or players use your VPN, you should check for P2P availability. 
Compatibility
There are many great VPN services out there, but some of them are as compatible with gaming consoles as others. Make sure to search around to see if the VPN you are choosing works with Windows, MacOS, Linux, Playstation, XBOX, Nintendo Switch, Android, iOS, or any other devices or consoles you may be using. 
You want to make sure that you can play your video games while using your VPN service. Also, check that they provide specialized gaming servers. 
Trustworthiness
You want to choose a company that has a reputation for keeping your data secure. Look for VPN providers who have a no-log policy and state-of-the-art data encryption. Also, if the company provides you with personalized security configurations, that also helps you to customize your level of security. 
A trustworthy company also has a track record of good service, support, and security. 
Speeds
It's important to select a VPN service provider that has a reputation for fast internet speeds, great service, and connection reliability. There's nothing worse than getting your gaming slowed down with high ping times. A ping (or latency) is the time it takes for a data set to be transmitted to and from your device.
High ping rates will affect gameplay. You'll have lower-quality graphics and lag time. Lower ping rates under 50 ms are more desirable for gaming. You also want a service that can retain a good speed rate. Many VPNs will have an excellent initial speed, but then they don't maintain that speed.
You want a VPN that can keep a higher percentage of their initial speeds. For the best gaming sessions, your internet speed should be about 20 Mbps, especially for multiplayer games. Anything lower will increase the lag time. 
The Best VPN Providers for Gaming
Here are some of the top VPNs on the market. Each has pros and cons for you to consider when choosing which VPN provider to use for your gaming needs. 
NordVPN is well-known as the fastest VPN world because of its top upload speeds and download speeds. Speed tests showed NordVPN remained at about 85% of initial connection speeds. They utilize a WireGuard VPN protocol called Nordlynx for safety.
They have over 5,500 servers in 60 countries for you to choose from. Prices begin at about $3.59 a month for 2 years with a 30-day money-back guarantee. There are specialized P2P servers great for torrenting. It also has a feature that blocks many intrusive ads. They also practice a no-logs policy to keep your data secure. 
However, setup can sometimes be tricky and the app interface can be difficult to navigate.  Also, you can only use NordVPN on 6 simultaneous connections. 
Starting at around $2.30 a month for a 24-month subscription, you can use Surfshark on unlimited devices. It has an app that's user-friendly and great security features, such as an optional kill switch. Surfshark has a no-logs policy to keep your data safe. A
lso, they use AES-256 encryption to keep your data secure. GPS spoofing can give you the ability to change your location to unlock content across the globe. They have 3,200 servers to choose from. Unfortunately, although it has fast speeds and top ping times, the upload time is slower than some of its competitors.
They also have some issues with their kill switch option and fewer configuration options on their app. 
With a dedicated router VPN app, you can avoid throttling and stay secure on consoles and PCs alike. You can use Smart DNS to switch between thousands of servers to unlock geo-blocked content. ExpressVPN has reliable streaming speeds and an easy setup. 
They practice a no-logs policy, have a reliable kill switch, and a secure threat manager. Their speeds are maintained at about 77% of the initial connection. So, stable enough to support PC gaming. Yet, you are only allowed 8 simultaneous connections per plan.
Prices are also a bit more expensive beginning at $6.67 a month for a 12-month subscription. They also don't have split tunneling on the iOS app and no obfuscated servers. 
This VPN service provider has 2,200 servers in 52 countries and unlimited simultaneous connections. They retain up to 79% of initial connection speeds, which is pretty solid. For the most part, IPVanish provides a buffering-free gaming experience. 
They support P2P connections and split tunneling. They also use a SOCK25 proxy and traffic obfuscation. They encrypt their data using AES-256 ciphers and are audited by the Leviathan Security Group. Although they are fast and secure, they don't have a lot of extra features and the app can be somewhat difficult to navigate. 
With tons of servers worldwide, you can stream and torrent with incredible speeds. Prices begin at $2.19 a month for 24 months. They have a reliable kill switch and a fast connection. You are only allowed 7 devices on a single plan, but you need to register each of these devices. And, some applications are not supported through this VPN. 
Some other popular VPN options include:
OpenVPN

Private Internet Access (PIA) 

Proton VPN
Sekur Is Fast and Secure 
For the best gaming VPN free from big-tech hosting, check out Sekur. Our 100% company-owned infrastructure has high-speed servers and unlimited data. You just need a single license for all of your devices. Our Swiss IP keeps you anonymous online.
We provide you with different layers of military-grade advanced encryption. All data is transferred in a multi-layered 2048-bit encrypted tunnel using our proprietary Heli-X technology.  Our applications are easy to use and the VPN is simple to set up, download, and tap. You can navigate safely knowing your IP is Swiss-protected. 
We also provide private Swiss-hosted email and instant messaging, so you can secure all of your communications and gaming needs in one. You can communicate safely with both Sekur and non-Sekur users alike. Try our 7-day trial to regain your privacy. 
Conclusion
As a gamer, it is important to have a fast, reliable, and safe connection. So, choosing the right VPN for your gaming needs is essential. Look for a service that provides excellent privacy and security while also offering reliable speeds.
Price and server locations are also key factors in choosing the right VPN. The right VPN should be trustworthy and compatible with your devices. Choosing the right VPN can unlock new gaming potential, so be sure to weigh your options carefully.
Soon, you'll be able to game with the best players with unbeatable security and high speeds.